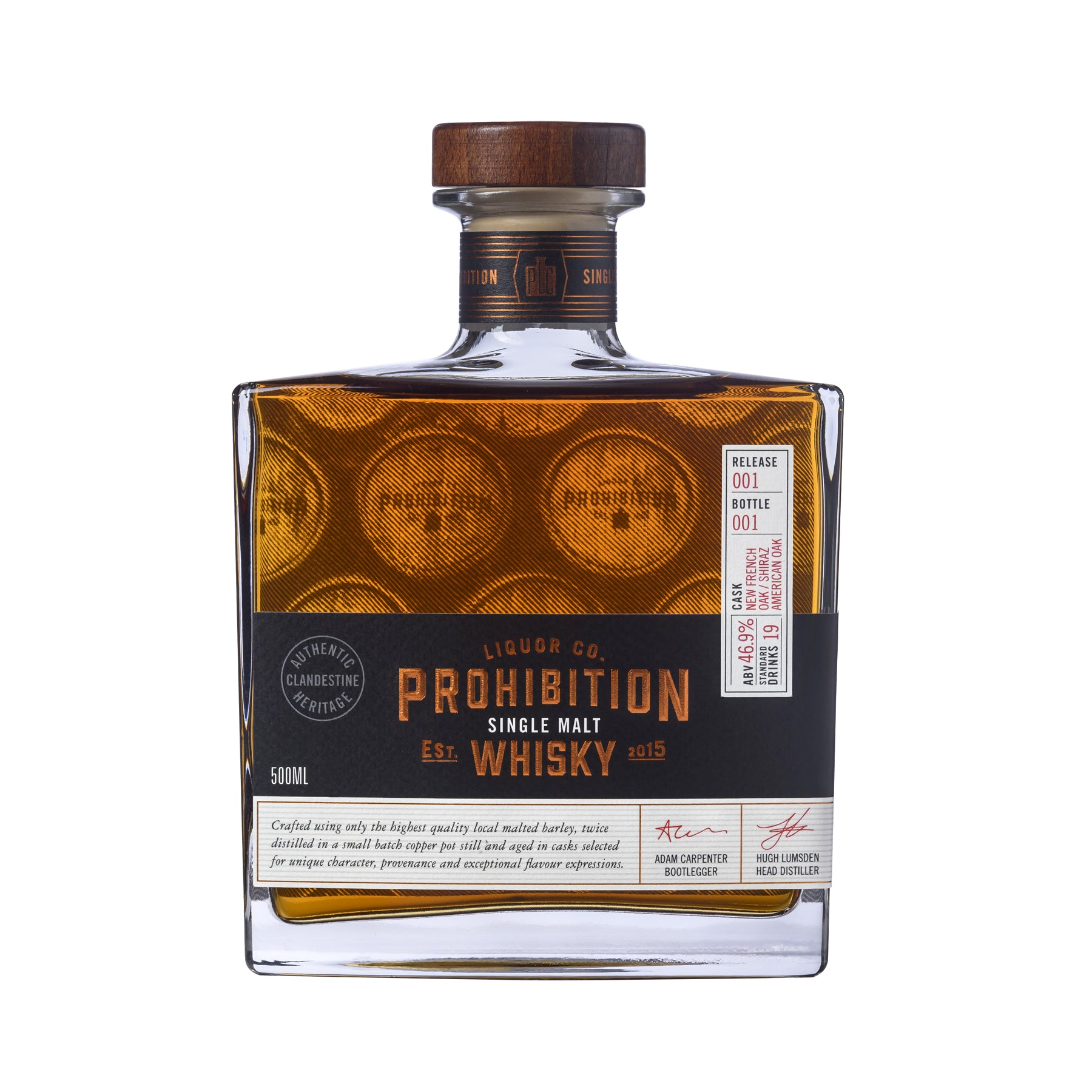 Prohibition Single Malt Whisky Limited Edition - Release 01
46.9% ABV | 500ML
Ultra-limited release - First Edition

Crafted using only the highest quality local malted barley, twice distilled in a small batch copper pot still and aged in casks selected for unique character, provenance and exceptional flavour expressions, makes this one not to be missed. 

Individually numbered, packaged in a premium presentation box with a certificate of authenticity, detailing synonymous with the quality you expect from Prohibition, making this a stunning addition to your collection. 
Limit of 2 bottles per person.
Single Malt Whisky
Our first release, made from pale barley-malt and champagne yeast, was distilled through our pot-still Mary in 2019. The culmination of years of maturation & patience. Initially aged across three unique small format barrels, including an ex-gin barrel, a recoopered and upcycled shiraz barrel, and a piece of incredible French oak, then the final marriage for 12 months in a 200 litre ex-bourbon barrel.
We're ecstatic about this whisky's vigour, balance, and complexity. Luscious toffee, white pepper and dried peach are interplayed by shortbread, apple pie and Manuka honey. Enjoy.
"We're ecstatic about this whisky's vigour, balance and poise; it's complex, elevated, and confident," — Hugh Lumsden (Head Distiller)
"This has been the most intensively developed and reviewed product we've ever released; it's the culmination of years of maturation and patience, and we couldn't be prouder — Adam Carpenter (Bootlegger)